A thought is something you think. 
A belief is a thought you keep on thinking. 
A belief system is a multitude of beliefs that interconnect with each other and provide each other strength.
As we have seen in the explanation on the five step cycle of creation; how our thoughts influence our reality, it is of vital importance to be able to transform our thoughts, beliefs and belief systems that no longer serve us.
A great tool for this is The Work from Byron Katie. She has developed a very clear and simple technique that allows people to investigate, turn around and transform their stressful thoughts. She calls this process The Work and she explains the process in depth on her website for free.
Both on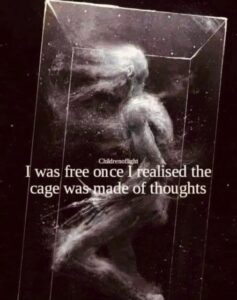 Even though Byron Katie might look like a sweet old lady and probably is, don't be fooled by her appearance. She goes into the heavy stuff and dives deep with this when it is needed also. She is absolutely fearless when it comes to investigating bad feeling thoughts. And so should we all be. 
In this playlist she explains the process in detail. On her website you can download a lot of tools for free to start doing the work yourself. I can personally recommend the – One Belief At a Time Worksheet – she offers there. It's a simple way to get started with this great method of self inquiry. 
Here an example of her doing The Work  with somebody on a very common stressful subject; Money!